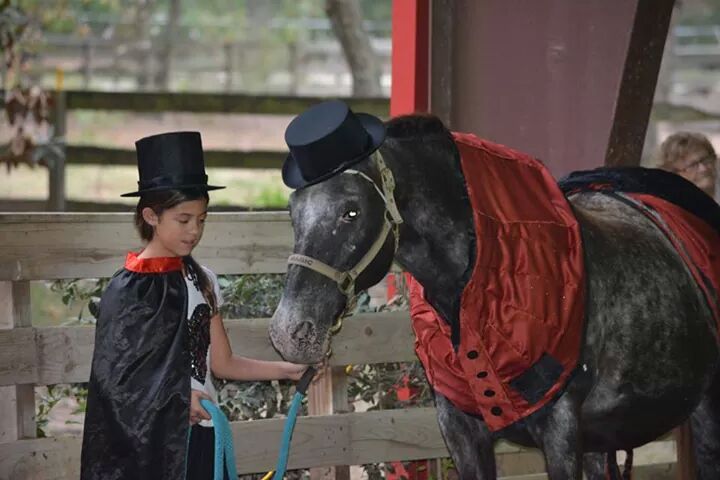 "In Barn" Showing- These shows are for students who are looking to get their feet in the competition ring, two shows per year are offered within the barn. Participation is limited to 80 riders and both school horses and private horses are used. For those wishing to ride a school horse a draw is used similar to the process used for college equestrian teams. This is also a great warm up for students going to shows outside the barn. Local judges are hired and riders dress is relaxed.

Sweetheart Horse Show - February 15th, 2020

Halloween Horse Show - October 26th - Entries are due by Friday October 18th!

Show Team - This program is open to riders enrolled in the lesson program that have passion for competing. We offer three different teams, a Freshman, Junior Varsity, and Varsity Team, to fit all rider's level of commitment. Along with having a supporting team atmosphere, Show Team members receive several benefits and show team attire. Please read the article below for more information.

Sign up for the 2020 Show Team will be available on January 1st, 2020

Congrats to our 2018 Varsity Team Members - Kylie Bevan, Bree Garey, Charli Maddox, Kaylee Rayner, Carla Salvador , and Emma Scott
Congrats to our 2018 Junior Varsity Members - Emma Bowles, Alexys Howrish
Congrats to our 2018 Freshman Members - Heather Cochrane, Georgia Dorsett, Emily Grayless, Mollie Lynch, and Sarah Synek

Local Schooling Shows- Tally Ho Farm attends the Greater Houston Hunter Jumper Association recognized schooling shows. Information about the organization, rules and show results can be found on their website. For students who have never attended a show it is important to read the information packet above. Tally Ho Farm feels strongly that attending horse shows is more than winning ribbons. Dedication to the horse and improving skills is highly stressed.